---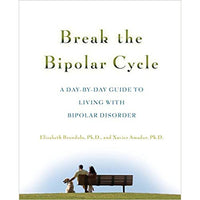 Take control of your symptoms--and take charge of your life.
If you're dealing with bipolar disorder, you already know that it's more than a cycle of "ups" and "downs." You may also have difficulty with depression and irritability, as well as problems with weight gain, memory, and fatigue. Dealing with these day-to-day problems can sometimes seem like too much to bear. Drawing on the latest research in bipolar disorder, stress, and health, this step-by-step guide offers a complete selection of livable, workable solutions to manage bipolar disorder and helps you:
Identify your symptoms Explore your treatment options. Stabilize your moods, sharpen your mind, achieve your goals. This isn't a one-size-fits-all guide. It's a uniquely personal approach to your bipolar disorder that covers the full spectrum of the disease and its symptoms. You'll be able to find successful ways to regulate your moods, relieve your stress, improve your thought processes, and break the bipolar cycle--for a happier, healthier life.