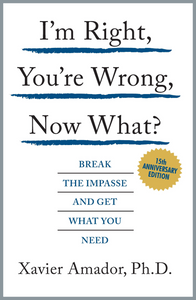 NEW RELEASE
I'm Right, You're Wrong, Now What? 15th Anniversary Edition
This book is all about becoming fluent in the language of LEAP, practicing what it takes to run that marathon to create a dialogue that leads to breaking an impasse. It requires cross-training and immersion. That is why in the pages ahead you will be immersed in LEAP and experience it being used in a wide variety of circumstances and relationships. You will cross-train.
"I'm Right, You're Wrong, Now What? is right on target. Dr. Amador gives specific pointers about how to communicate, listen, and resolve impasses."--Robert L. Leahy, Ph.D., author of The Worry Cure: Seven Steps to Stop Worry from Stopping You, and president, International Association for Cognitive Psychotherapy
Read Free Preview
---
About the Author: Xavier F. Amador, Ph.D.
Dr. Xavier Amador is an internationally renowned clinical psychologist and leader in his field. His books, and research have been translated into 22 languages. He is a family caregiver of siblings with serious mental illness and addiction. His worldwide speaking tours and extensive work in television news make him truly unique among his peers.